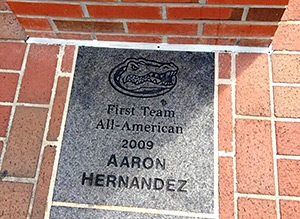 With former New England Patriots tight end Aaron Hernandez facing murder charges stemming from the shooting death of semi-pro football player Odin Lloyd, organizations and institutions related to Hernandez have distanced themselves from him in recent weeks. Hernandez's alma mater is the latest party to join the trend.
'Empty space'
According to University of Florida sports media professor Ted Spiker, the school has decided to remove a brick from campus that celebrated Hernandez's All-American status.
The process was quick and surgical in nature; there is now no sign that Hernandez's brick was ever there. All that remains is an empty space above offensive lineman Maurkice Pouncey's brick, according to Julie Quittner of Gainesville Television Network.
'Innocent until proven guilty'
Hernandez received the All-American honor in 2009, when he also won the John Mackey Award as the nation's best tight end. Hernandez reeled in 68 passes for 850 yards and five touchdowns that year, which led directly to the Patriots drafting him in the fourth round (No. 113 overall).
Hernandez is still innocent until proven guilty beyond a reasonable doubt, but the Patriots and Gators clearly aren't interested in waiting around.
Do you think Aaron Hernandez is guilty in Odin Lloyd's death? Was University of Florida right in removing Hernandez's All-American brick of honor from the campus?
Source: Mike Chiari | Bleacher Report
Image: ABC 6