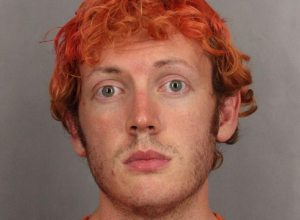 James Holmes, the accused gunman in last Friday's midnight movie massacre in Colorado, mailed a notebook "full of details about how he was going to kill people" to a University of Colorado psychiatrist before the attack, and the parcel may have sat unopened in a mailroom for up to a week before its discovery Monday, a law enforcement source told FoxNews.com.
"Inside the package was a notebook full of details about how he was going to kill people," the source told FoxNews.com. "There were drawings of what he was going to do in it — drawings and illustrations of the massacre." Among the images shown in the spiral-bound notebook's pages were gun-wielding stick figures blowing away other stick figures. It was not clear why it had not been delivered to the psychiatrist. The notebook is now in possession of the FBI, sources told FoxNews.com.
Both of FoxNews.com's sources said the intended recipient of Holmes' notebook was a professor who also treated patients at the psychiatry outpatient facility, located in Building 500. It could not be verified that the psychiatrist had had previous contact with Holmes, who was a dropout from the school's neuroscience doctoral program and had studied various mental health issues and ailments as part of his curriculum.
Holmes is accused of killing 12 and injuring 58 at a midnight showing of the Batman movie "The Dark Knight Rises" at the Century 16 Theater in Aurora. Agent Dave Joly, of the FBI's Denver Division, declined to comment on the matter, citing a gag order issued Monday by Arapahoe County District Judge William Sylvester. Arapahoe County District Attorney Carol Chambers' office and Aurora police also could not comment due to the gag order.
Do you believe the speculations that James Holmes is just pretending to be insane? OR does he seem deeply crazy to you? Could he have meticulously planned the killing as the mailed notebook depicts?
Source: Fox News
Image: NY Daily News