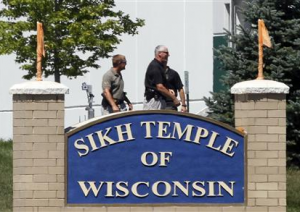 The FBI will investigate Sunday's rampage at a Sikh temple in a Milwaukee suburb as a "domestic terrorist-type incident" that left at least six people and the gunman dead, the town's police chief said.
Authorities have not identified the gunman by name, though Thomas Ahern, a spokesman with the ATF's Chicago division, described him as a white male roughly 40 years of age. No connection has been established between the shooter and the temple, he added. Like other officials, Ahern said authorities have not determined a motive, adding "we are a long way away from that right now."
The Sikh religion originated in northern India around 1500 and has about 25 million followers, 700,000 of them in the United States, according to the Sikh American Legal Defense and Education Fund. Because of their customary beards and turbans, Sikh men are often confused for Hindus or Muslims — and have been the targets of hate crimes since the September 11, 2001, attacks on New York and Washington, said Surinder Singh, a spokesman for the Guru Nanak Mission Society of Atlanta.
Police searched the suspect's home, "a short distance" from the temple, on Sunday evening, according to a law enforcement source with direct knowledge of the investigation. A single 9mm semi-automatic pistol believed to have been used by the gunman was found at the scene, along with the wounded officer's weapon, the source said. Initial reports were that there may have been multiple attackers, but police found no indication of another gunman, said Bradley Wentlandt, the police chief in nearby Greenfield.
Could terrorism be the main motive of this shooting? What should the government do to curb this kind of violence? Feel free to shout out your opinions in the comment box below!
Source: CNN
Image: Reuters