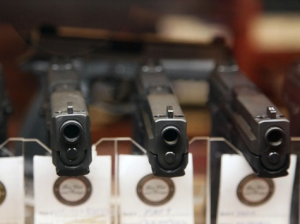 A pair of Democratic lawmakers are proposing steep new taxes on handguns and ammunition, and tying the revenues to programs aimed at preventing gun violence.
'Gun violence prevention'
Called the "Gun Violence Prevention and Safe Communities Act," the bill sponsored by William Pascrell, D-N.J., and Danny Davis, D-Ill., would nearly double the current 11 percent tax on handguns, while raising the levy on bullets and cartridges from 11 percent to 50 percent.
The lawmakers say the bill would generate $600 million per year, which would be used to fund law-enforcement and gun violence prevention. The bill would exempt all federal, state and local agencies, including police departments, from paying the tax.
'Good use'
The bill would also increase the transfer tax on all weapons (except antique guns) covered under the National Firearms Act (which excludes most common guns) from $200 to $500 and index to inflation and  increase the transfer tax for any other weapon from $5 to $100. The amendment will be voted upon when the House returns for the new session in the fall.
Davis, who represents a portion of Chicago which has been ravaged by gun violence in recent years, said money raised from the new taxes will go to good use.
Do you approve of this new bill for additional taxes on handguns? Why or why not?
Source: Perry Chiaramonte | Fox News
Image: Breitbart