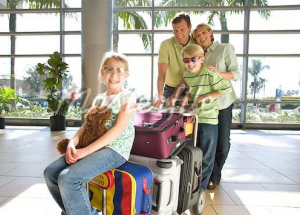 There are certain packing rules for flying that you really must follow because it's the law, and then there are those you should follow because they make sense and help get your vacation off to a stress free start.
You should always pack a small travel alarm clock, hair dryer with suitable adapter, a brush, camera and of course a toothbrush. Parents must always follow is to pack enough diapers, formula, and milk for babies to last a day at the very least, in case of delays. When carrying medicine, it's best to keep it in its original bottle or packet – that way foreign doctors will be able to check what you are taking in an emergency.
You will not be allowed to carry any lithium batteries on the plane whatsoever, but all other types of battery can be included in your checked luggage. Alcohol should be placed in your checked baggage. You may want to pack some foods to carry onto the plane with you.
One of the best packing rules when flying is to take an extra change of clothes in your carry-on luggage in case you are caught in an emergency. You should pack cosmetics and toiletries in your checked luggage, but there is the option of carrying containers of 3 oz. or less and packed in one 1-qt. zippered plastic bag in your carry-on luggage.
Only law enforcement officers are allowed to carry firearms onto the plane. You should never carry flammable liquids on the plane. All aerosols such as deodorants should be packed into your checked luggage. However you shouldn't pack any harmful aerosols, such as cleaning products, into any of your luggage.
Source: All Women's Talk
Image: Masterfile