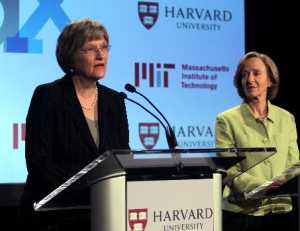 From Harvard to Stanford, a growing number of elite universities are throwing open their digital doors to the masses. They're offering their most popular courses online for no charge, allowing anyone with an Internet connection to learn from world-renowned scholars and scientists.
The proliferation of so-called massive open online courses, or MOOCs, has the potential to transform higher education at a time when colleges and universities are grappling with shrinking budgets, rising costs and protests over soaring tuition and student debt.
Supporters say these online courses can lower teaching costs, improve learning online and on campus, and significantly expand access to higher education, which could fuel technological innovation and economic growth.
Last month, a dozen major research universities announced they would begin offering courses on the online learning platform Coursera, joining Stanford and Princeton universities and the universities of Pennsylvania and Virginia. The University of California, Berkeley said it would start making online courses available this fall through edX, a competing Web portal launched in May by Harvard University and MIT with $60 million in funding from the two schools.
So far, the new online courses are attracting mostly older workers who want to upgrade their skills and knowledge, but may not have the time or money to attend classes on campus. The new generation of online courses features interactive technology, open admissions, high-caliber curriculum and the ability to teach tens of thousands of students at once. The universities say the online courses are as rigorous as their campus counterparts.
Are you in favor of these elite universities offering free online courses? Do you think cyber courses can really undermine systems of colleges and universities?