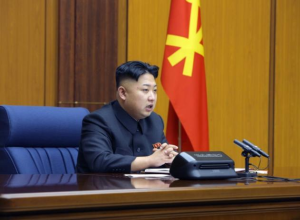 North Korea stirred up fresh unease in Northeast Asia early Thursday, threatening attacks by a "smaller, lighter and diversified" nuclear force and warning, "The moment of explosion is approaching fast."
'War will break out'
The new threat came after the North Koreans locked South Korean workers out of a joint factory complex and announced plans to restart a nuclear reactor it shut down five years ago. Meanwhile, the United States announced it was sending ballistic missile defenses to Guam, a Pacific territory that's home to U.S. naval and air bases.
"The moment of explosion is approaching fast. No one can say a war will break out in Korea or not and whether it will break out today or tomorrow," North Korea's state news agency KCNA declared in its latest broadside. "The responsibility for this grave situation entirely rests with the U.S. administration and military warmongers keen to encroach upon the DPRK's sovereignty and bring down its dignified social system with brigandish logic."
DPRK is short for Democratic People's Republic of Korea, the official name for North Korea.
'Path to peace'
Most observers say the North is still years away from having the technology to deliver a nuclear warhead on a missile. But U.S. Defense Secretary Chuck Hagel said Wednesday that the North Korean threats to Guam, Hawaii and the U.S. mainland have to be taken seriously. But Hagel also said there was still a "responsible" path for the North to take.
"I hope the North will ratchet this very dangerous rhetoric down," Hagel said. "There is a pathway that is responsible for the North to get on a path to peace working with their neighbors. There are many, many benefits to their people that could come. But they have got to be a responsible member of the world community, and you don't achieve that responsibility and peace and prosperity by making nuclear threats and taking very provocative actions."
Do you think a war will really break out? What will it take for North Korea to forsake its nuclear ambitions?
Source: Matt Smith, CNN
Image: NY Daily News