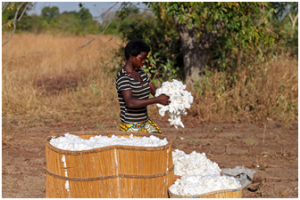 The company that owns Victoria's Secret vowed a full investigation Thursday after a report said cotton used in some of its products is grown using child labor.
"If this allegation is true, it describes behavior that is contrary to our company's values and the code of labor and sourcing standards that we require all of our suppliers to meet," parent company Limited Brands said in a statement. "These standards expressly prohibit child labor."
The statement from Ohio-based Limited Brands on Thursday followed an extensive report from Bloomberg that describes the life of a 13-year-old-girl who is beaten by the farmer she works for on a cotton field in Burkina Faso. The cotton picked by the girl went to factories in other countries, "where it was fashioned into Victoria's Secret underwear," the report said.
The report cited the leader of Burkina Faso's organic and fair-trade program and the head of fair-trade organization Helvetas Swiss Intercooperation as saying that Victoria's Secret purchased all of Burkina Faso's organic crop from last season.
A report earlier this year from the U.S. Labor Department found that child labor is used in cotton production in more than a dozen countries, including Burkina Faso. A press attache for the Burkina Faso Embassy in the United States had no immediate comment Thursday.
Source: CNN.com
Image: Bloomberg.com