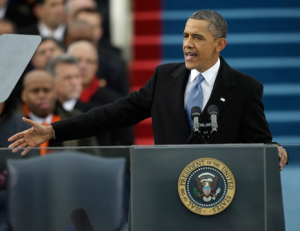 President Barack Obama delivered a forceful defense of the nation's safety net programs, and vowed to expand gay rights and tackle the problem of climate change in his second inaugural address Monday afternoon.
'Bipartisanship and unity'
The speech was a bolder and more specific defense of the president's liberal governing vision than the address he gave four years ago. For his first inaugural address, Obama stuck to a broader outline of his ideals and called on politicians to overcome partisan differences and work together in the face of economic crisis. On national television and before a crowd of hundreds of thousands of spectators who descended on the Mall, Obama staunchly reiterated his belief that gay people should be allowed to marry.
In the same section of the speech, the president made oblique references to gun violence, equal pay for women and immigration reform. The president did make a plea for bipartisanship and unity.
'Protect equality of opportunity'
The president challenged critics who have argued that the government must reduce its spending and cut back on social welfare programs, including Obama's health care reform law. Obama said that the country must reduce its deficit, but that the nation must work to protect equality of opportunity, in what seemed to be a reference to his battles with congressional Republicans over taxing and spending.
Obama argued that the nation's entitlement programs make America stronger because they protect this chance at equality. The president also warned in the 2,095-word speech that the country cannot succeed if a "shrinking few" succeed economically while the middle class suffers.
Did you watch President Obama's inauguration? Did his second inaugural speech cover important national issues? Share your thoughts on his agenda!
Source: Liz Goodwin, Yahoo News
Image: The New Yorker