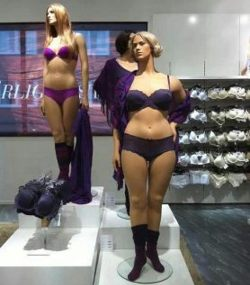 An H&M clothing store in Sweden is being hailed by women around the world after a photo of two surprisingly curvy mannequins there were photographed and posted online.
'More realistic proportions'
Dressed in skimpy lingerie, the mannequins displayed softer stomachs, fuller thighs and generally more realistic proportions than the traditional department store models. For comparison, most mannequins in the U.S. are between a svelte size 4 or 6—a departure from the average American woman who is a size 14.
On Tuesday, a blogger at I Am Bored posted a photo of the mannequins to Facebook and the response was overwhelming. "It's about time reality hit…" wrote out of almost 2,500 commentators.

"Anybody saying these mannequins encourage obesity or look unhealthy, you have a seriously warped perception of what is healthy. I guarantee the "bigger" mannequin in the front there represents a perfect BMI" wrote another.
'A step in the right direction'
Modern-day mannequins have long been critiqued for having tiny proportions.  And male mannequins haven't escaped scrutiny either. As much as the public contests these down-sized mannequins, when designers have attempted to create dolls that reflect real-life proportions they're met with criticism, even disgust.
A recent published in the Journal of Consumer Research shows that women's self esteem takes a nosedive when exposed to models of any size, so maybe there is no easy answer. But as long as mannequins are influencing people to buy fashion, reflecting real-life bodies is a step in the right direction.
What do you think of these curvy mannequins — yay or nay?
Source: Elise Sole, Yahoo Shine
Image: Tumblr