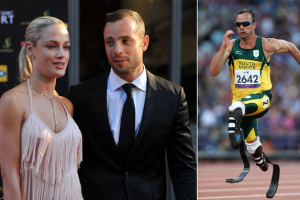 South African Olympic and Paralympic athlete Oscar Pistorius is facing a murder charge after his girlfriend was shot and killed at his Pretoria home. His arrest over the death of model Reeva Steenkamp has stunned the country where he is considered a national hero. The 26-year-old is due to appear in court on Friday.
'Four gunshot wounds'
Mr Pistorius made history in London last year when he became the first double-amputee track athlete to compete in the Olympic Games. He is known as the "blade runner" because of the carbon fibre prosthetic blades he races in. He was born without a fibula in both legs and had his legs amputated below the knee before his first birthday.
Police were called to his home in the upmarket Silver Woods gated compound on the outskirts of South Africa's administrative capital in the early hours of Thursday morning. They found paramedics treating a 29-year-old woman with four gunshot wounds to the head and upper body. She died at the scene, and officers recovered a 9mm pistol.
'Mistaken for an intruder'
Early reports suggested Mr Pistorius might have mistaken his girlfriend for an intruder. Police say neighbours heard screaming and shouting around the time of the shooting, and that they had been called to investigate incidents of a domestic nature at the same house in the past. They also said that they would oppose any bail application.
South Africa has one of the highest rates of crime in the world and many residents keep weapons to protect themselves against intruders. But gun ownership is strictly regulated and it is not easy to obtain a licence.
Do you think it was really Oscar Pistorius who shot his girlfriend? What could have been the real reason behind this fatal shooting?
Source: BBC News
Image: The Telegraph