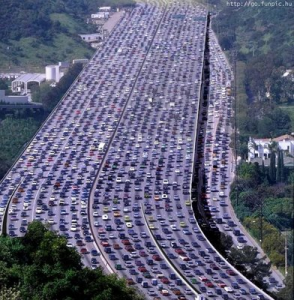 Next time you complain about being stuck in traffic, spare a thought for the drivers in Brazil's biggest city, which has some of the worst congestion problems in the world.
Friday evenings are a commuter's worst nightmare in Sao Paulo. That's when all the tailbacks in and out of the city extend for a total of 180km (112 miles), on average, according to local traffic engineers, and as long as 295km (183 miles) on a really bad day.
The Brazilian car industry has been breaking successive production records over the last decade, as the income of millions of Brazilians has improved thanks to economic growth. Owning a car is a widely held aspiration, offering an alternative to the city's deficient public transport system, and the ultimate proof of belonging to the middle class. However while the explosion in car sales was essential to sustain Brazilian economic growth, it has also pushed Sao Paulo's "sea of cars" to a whole new level.
For those who have enough money there is another option – they can literally hover above the problem. The owner of Helimart Air Taxi, Jorge Bittar, says his company is enjoying an average growth of 10% per year and has 16 helicopters that rarely stay on the ground for long.
The heavy traffic has a huge impact on the cost of living and doing business says Claudio Barbieri, a professor in engineering and transport expert from the University of Sao Paulo. He says Sao Paulo has skilled and experienced traffic engineers that somehow manage to get the city to flow, albeit slowly. But he is also clear that "Sao Paulo needs urgently to invest more in public transport instead of building new roads and expressways that will only be filled up with more cars."
What do you think is the best solution for heavy traffic such as that in Sao Paulo? Tell us about your most memorable stuck-in-traffic experience!
Source: BBC News
Image: Living in Brazil