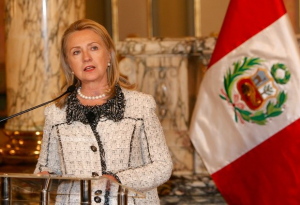 Secretary of State Hillary Clinton on Monday tried to douse a political firestorm over the deadly assault on a U.S. diplomatic mission in Libya, saying she's responsible for the security of American diplomatic outposts.
'I'm in charge'
"I take responsibility," Clinton said during a visit to Peru. "I'm in charge of the State Department's 60,000-plus people all over the world, 275 posts. The president and the vice president wouldn't be knowledgeable about specific decisions that are made by security professionals. They're the ones who weigh all of the threats and the risks and the needs and make a considered decision."
But she said an investigation now under way will ultimately determine what happened at the U.S. Consulate in Benghazi, where Ambassador Chris Stevens and three other Americans were killed on September 11. The attack took place in the eastern Libyan city that was the cradle of that country's 2011 revolution. Obama administration officials initially blamed a mob inflamed by a U.S.-produced movie that mocked Islam and its Prophet Mohammed, but later said the storming of the consulate appears to have been a terrorist attack.
'Contradicting testimony'
With criticism growing, Vice President Joe Biden said during last week's vice presidential debate that the White House did not know of requests to enhance security at Benghazi, contradicting testimony by State Department employees that requests had been made and rejected. After the debate, the White House said the vice president did not know of the requests because they were handled, as is the practice, by the State Department.
Clinton said her mission now is to make sure such an attack will never happen again, and also to ensure the work of American diplomats won't be stopped even in dangerous areas like Benghazi.
What do you think really happened in the Benghazi terrorist attack? Who is to blame for the death of Ambassador Chris Stevens and three other Americans? Feel free to share your thoughts and opinions with us!
Source: CNN
Image: Mail