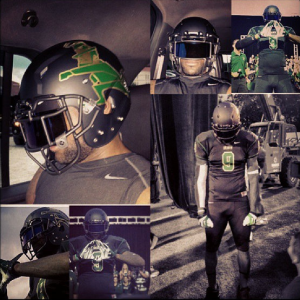 LeBron James' former high school football team is a pretty safe bet to be looking sharper than most of their opponents on the gridiron this season.  That's because the current NBA superstar—along with Nike—is hooking up his alma mater St. Vincent-St. Mary with some new football uniforms.
'Sleek touch'
On Saturday, he gave us a look via his Instagram account: The all-black unis are super sleek, while the matte helmets and visor add a sleek touch. Can you imagine still being in high school and walking out to the field, only to see your opposition dressed in these uniforms?
That's the epitome of intimidation, and it should only help make the defending state champions from Akron, Ohio that much more difficult to beat in 2013.
'Charity'
Apparently there are a few perks of going to the same high school as LeBron. His charity doesn't stop there, either.  According to the Associated Press, via the Washington Post, James isn't just supplying the football team with new uniforms—he is outfitting every fall sports team.
Do you like the new unis that St. Vincent-St. Mary's new football unis? And what can you say about LeBron James' generosity for his alma mater?
Source: Tim Keeney | Bleacher Report
Image: Diehard Sport