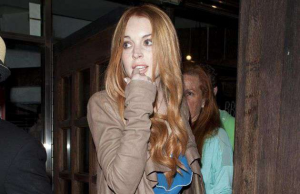 Lindsay Lohan actually HIT A PERSON with her car Wednesday night … And then she FLED THE SCENE!!!
Apparently, there were paparazzi all over place after she left the Sayers Club last night and as she was trying to get out of the parking lot in her new Porsche, she "lightly" struck the manager of the nearby Hookah Lounge!!! Ouch!!! But did she stop??? Of course not!! She's LiLo!! LOL!!! Girl just proceeded to peel the hell on out!!
Cops did arrive at the scene, but it may have been Linds who called them. You know… for her protection, ha! And according to reports, the manager wasn't injured so it technically wasn't a "hit and run" and she technically didn't violate any law. But… c'mon…
UPDATE: Spoke too soon!
Sources reveal that in fact the club manager LiLo rolled over with her car actually was taken to the emergency room shortly after his take down. As of right now, an official report has not been filed, BUT police have been informed that the manager intends to press charges and hire an attorney.
Yeah, that's right. This guy is gunning for her. What's interesting though is that according to sources on the scene, when Lindsay hit the guy while attempting a 3-point turn, she only grazed his knee and when the paparazzi on scene came to his aid, he insisted that he was fine. It was only AFTER he heard that it was the infamous Lindsay Lohan who tapped his funny bone did he SUDDENLY have an injury! How convenient!
Source: Perez Hilton
Image: Monsters and Critics