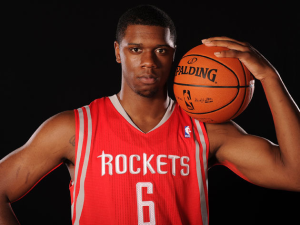 Houston Rockets forward Terrence Jones has been arrested after shouting at and stomping on the leg of a homeless man in Portland around 2 a.m. Wednesday morning, according to a report from KATU.com.
'Harassment'
According to KATU, Jones was charged with harassment and is scheduled to appear in court next week. Sgt. Pete Simpson of the Portland Police Bureau describes the incident:
While watching the group walk away from the bar, the sergeant observed a man, later identified as Terrence Jones, walk by a doorway where two homeless men were sleeping. Jones yelled, "Wake up," then raised his leg and stomped down on one of the men's legs. The men were sleeping in the doorway of 114 Northwest 3rd Avenue.
'Minor leg injury'
The reported victim was 46-year-old Daniel John Kellerher, who suffered a minor leg injury from Jones' stomp but nothing that would require immediate medical treatment, per Simpson.
The 6'9″, 250-pound power forward played in only 19 regular season games for the Rockets as a rookie, averaging 5.5 points and 3.4 rebounds per game.
What could have brought Terrence Jones to stomp on that poor guy? And how will this case affect Jones' NBA career?
Source: Patrick Clarke | Bleacher Report
Image: Yahoo! Sports