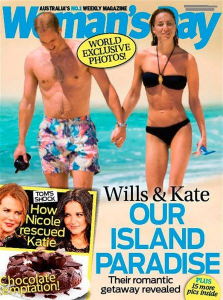 Fourteen months after Prince William and Kate Middleton's honeymoon, photos of their romantic vacation have been made public. But not everyone is enjoying the memories, least of all the royal couple.  Private moments from the couple's jaunt in Seychelles' luxurious North Island last May are splashed throughout the pages of Woman's Day, an Australian tabloid, and spreading like wildfire on the internet.
For the palace, it's a symbol of broken trust, and a media betrayal that resonates in the royal family's tragic history. But for one anonymous photographer staked out during their May escape, it could have meant a major payday. Woman's Day hasn't confirmed any details on how they obtained the photos or for how much.
Painstaking efforts went into preserving the newlyweds' privacy in the weeks after their internationally scrutinized wedding. Not even Kate knew their honeymoon destination until the last minute, according to Marie Claire. Despite all that, the location of their beachside retreat in Seychelles North Island was promptly discovered by international press. Out of respect for the couple, and Prince William's late mother, the media largely promised to respect the couple's wishes for privacy with a "blackout" during their 10-day jaunt.
The image on the magazine's cover of the Aussie magazine shows a blissed-out couple, holding snorkeling gear, clueless to any member of the press hidden nearby. Fifteen additional images of Kate and Will swimming and relaxing fill the pages inside the issue.
Paparazzi hiding out in dunes with long lens-equipped cameras are commonplace for high-profile celebrities on vacation, but because of scrutiny over the media's role in Lady Di's tragic death, Kate and Will have been granted more privacy.
Does a media "blackout" every really work? How do you think will these leaked honeymoon photos affect the royal couple, the palace, and the international media? Tell us your opinions about this hot royal issue!
Image: The Daily Beast