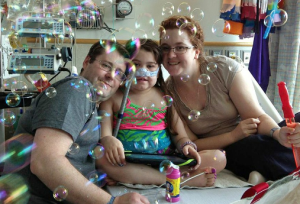 A federal court judge has granted a temporary order that will allow 10-year-old Sarah Murnaghan, who is dying from cystic fibrosis and desperately needs new lungs, to join an adult organ transplant list.
'Under 12 Rule'
Judge Michael Baylson made his ruling after hearing oral arguments Wednesday afternoon on a federal lawsuit filed by Sarah's parents, challenging the "Under 12 Rule" that was keeping the 10-year-old off the adult transplant list.
Baylson's order tells Department of Health and Human Services (HHS) Secretary Kathleen Sebelius to direct the group that manages the organ transplant list to cease application of it in Sarah's case. And if there is another child in the judicial district in Sarah's situation, the judge would consider and probably grant a temporary restraining order for them, too, if the case is presented in court.
'Hope'
In a statement issued late Wednesday afternoon, the family said, "We are experiencing many emotions: relief, happiness, gratitude and, for the first time in months: hope."
Experts, though, questioned Baylson's decision on both medical and ethical grounds. Lung transplants are the most difficult of organ transplants, and children fare worse than adults, which is one reason for the existing policy, said Dr. Arthur Caplan, a bioethicist at New York University Langone Medical Center.
Did Judge Michael Baylson make the right decision when he made Sarah Murnaghan eligible for the adult lung transplant list? Do you think she will have a successful operation?
Source: Fox News
Image: 13 News