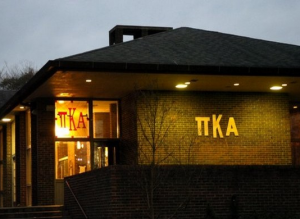 The University of Tennessee says it has suspended a fraternity chapter indefinitely and may refocus its alcohol education programs after police said a student was hospitalized following a weekend incident involving alcohol enemas. Twelve Tennessee students were cited with underage drinking and one with disorderly conduct following the incident early Saturday at a Pi Kappa Alpha fraternity chapter house, according to a university spokeswoman.
Knoxville police say they began investigating after a student was taken to the UT Medical Center in critical condition early Saturday with a blood alcohol level of 0.40 — five times the legal cutoff for driving.
"Upon extensive questioning, it is believed that members of the fraternity were using rubber tubing inserted into their rectums as a conduit for alcohol as the abundance of capillaries and blood vessels present greatly heightens the level and speed of the alcohol entering the bloodstream as it bypasses the filtering by the liver," Knoxville Police spokesman Darrell DeBusk said Monday in a statement. The student has been released, the hospital said.
Knoxville police said investigators found tubing and materials used to give alcohol enemas at the scene. They also said a witness told them that the hospitalized student had used an alcohol enema. Reports released by UT police Wednesday say investigators saw beer cans and bottles and "bags from wine boxes, some empty and some partially empty, strewn across the halls and rooms."
Tim Rogers, vice chancellor of student life, said the university has suspended the chapter indefinitely "until we wrap up this investigation." He cautioned that the university considers the enema reports to be only allegations, and that neither police nor the university has completed investigations.
Do you think alcohol enema was really performed within the fraternity? Feel free to share your thoughts regarding this issue!
Source: CNN
Image: Redding