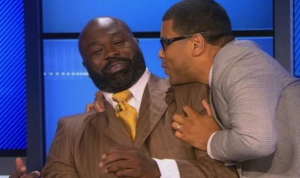 Michael Smith and former NFL defensive end Hugh Douglas acted as adversaries on the ESPN show Numbers Never Lie, but after their on-screen relationship led to a public altercation, the network reportedly made the decision to part ways with Douglas.
'Very disappointed'
Douglas subsequently expressed his thoughts about the situation on Twitter:
"I am very disappointed to be leaving ESPN and will have more to say about this situation and my future at the appropriate time"
This move stems from an incident that reportedly occurred a couple weeks ago. According to Jason McIntyre of The Big Lead, Douglas instigated a situation with his co-host Smith at an Orlando party on Aug. 2.
'Racial slurs'
An inebriated Douglas allegedly threatened to attack Smith on three occasions when Smith refused to help him get on the DJ stage at the Orlando House of Blues. The incident didn't stop there, as Douglas reportedly threw racial slurs toward Smith, calling him an "Uncle Tom" and a "House N—-," per McIntyre's report.
An ESPN representative who witnessed the incident reportedly spoke with Douglas, which prompted Douglas to leave the establishment.
Douglas had been held off Numbers Never Lie since the alleged altercation. According to Deitsch, an ESPN spokesperson made the move official through a brief statement: "He no longer works for us effective today."
Was letting Hugh Douglas go a wise move for ESPN? Who do you think will replace him?
Source: Mike Chiari | Bleacher Report
Image: Sports Grid