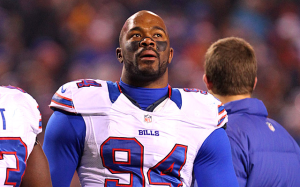 According to The Buffalo News' Dan Herbeck, Buffalo Bills' Mario Williams has filed a lawsuit against his ex-fiancé, Erin Marzouki, in Houston's Harris County Court to obtain a 10-carat engagement ring worth $785,000 he gave her in a proposal.
'Used him for his money'
Williams alleges in his lawsuit that Marzouki never wanted to marry him and only used him for his money.
"(Marzouki) never intended to marry (Williams) and used the relationship as a means to get to (Williams') money and acquire gifts," said the lawsuit (per the Houston Chronicle).
The lawsuit also alleges that there was an agreement in place that if the engagement were called off, she would return the ring. Marzouki reportedly called off the engagement in January after receiving the ring in February 2012.
'Right to recovery'
From a legal standpoint, Texas is a no-fault state for gifts, which engagement rings falls under. That means the person giving the ring is legally allowed to ask for its return "on breach of the marriage engagement by the donee," per Herbeck. Thus, Williams' lawyers noted that the Bills defensive end has a "right to recovery" in regards to the expensive piece of jewelry.
Williams' suit also alleges Marzouki ran up $108,000 on an American Express card he gave her, along with another $230,000 in "additional luxurious items." Even if Williams is unable to recover the ring, all isn't lost financially for the 28-year-old. He is due a base salary of $6.5 million for 2013 and is under contract for even more exorbitant salaries going forward.
Do you think Mario Williams will be able to recover that engagement ring from his ex-fiancee? Guys, would you spend that much for a proposal?
Source: Tyler Conway, Bleacher Report
Image: CBS Sports