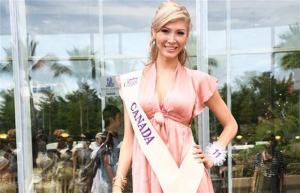 Miss Universe Canada officials have banned 23-year-old transsexual Jenna Talackova from participating in the pageant finals to be held in Toronto in May, 2012.
The Vancouver contestant was one of sixty-five women chosen to compete in the national contest (which is owned by Donald Trump). The Daily Mail Reports that Denis Davila, national director of Miss Universe Canada, asserts that every contestant must be a "naturally born female." Critics of the decision claim that the rules do not specifically address sex change or plastic surgery.
The statuesque blonde Talackova is calling it a human rights issue. She says that she knew she was a girl by age four, started hormone therapy at fourteen, and had sex reassignment surgery at nineteen. She's previously competed in both transsexual and women's beauty pageants.
"All I can say is that they disqualified me because I'm not 'natural born,' she told the National Post. "[That] doesn't make sense because since I was conscious, I always felt this way."
After being kicked out of the pageant, Talackova, whose twitter account has since been locked, tweeted, "I'm disqualified, however I'm not giving up. I'm not going to just let them disqualify me over discrimination." Talackova says she is not doing interviews until she consults a lawyer, describes herself as, "a woman with a past."
Source: Yahoo News
Image: The Province