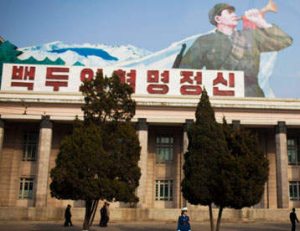 The United States announced a diplomatic breakthrough with North Korea Wednesday.
Under an agreement reached in direct talks in Beijing last week, North Korea has agreed to allow the return of nuclear inspectors from the International Atomic Energy Agency, and has agreed to implement a moratorium on long-range missile tests, nuclear tests, and nuclear activities  at Yongbyon, including uranium enrichment activities, the State Department said. In return, the United States will provide North Korea with a large food aid package.
In return, the United States will "move forward with our proposed package of 240,000 metric tons of nutritional assistance along with the intensive monitoring required for the delivery of such assistance," she said.
Arms control experts welcomed the signs of progress in U.S. efforts to engage Pyongyang. But U.S. North Korea experts and foreign policy hands advised high caution in assessing Pyongyang's intent, given its track record of abrupt reversals.
The return of nuclear inspectors to North Korea for the first time in three years would be a "very positive development," Sen. John Kerry (D-Mass.), chairman of the Senate Foreign Relations panel, said in a statement Wednesday. And he added, the United States has a humanitarian interest in helping the North Korean people receive food aid. "Resuming nutritional assistance to the DPRK is the right thing to do if we can ensure our aid will reach those in need."
Source: Yahoo News
Image: The Guardian