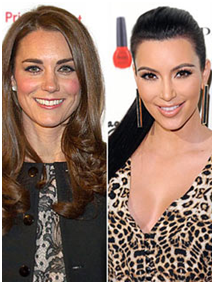 You wouldn't expect anything less from the Dutchess of Cambridge. The always-elegant Kate Middleton reigns regal atop this year's list of "Ten Best-Mannered People of 2011," compiled by the National League of Junior Cotillions.
The British beauty, praised for "the poise and dignity with which she conducts herself in the public spotlight," was an obvious choice for the title, NLJC national director Elizabeth Anne Winters said in a statement. Justin Bieber took second place for "consistently showing courtesy to his fans." Paula Abdul rounded out the top trio, lauded for her "encouragement to aspiring entertainers."
The annual list is compiled by the etiquette and social training program and is based on a person's "demonstration of dignity, honor and respect," Winters said. This year's best-mannered list included a mix of actors, celebrities, singers and athletes, along with a few surprises.
Aaron Rogers landed in slot No. 4 for being a positive role model, followed by Taylor Swift and George Stephanopoulos in 5th and 6th place, respectively. Jackie Evancho took 7th place for "demonstrating humility and politeness as a young performer." CNN talk show host Erin Burnett placed 8th and Emma Watson came in 9th. Denver Broncos quarterback wraps up the top 10 list for "displaying good sportsmanship on and off the field."
Reality star Kim Kardashian took the title of "The Most Ill-Mannered Person of 2011″ for "making a private matter public and disrespecting the institution of marriage."
Source: NYDailyNews.com
Image: US Weekly