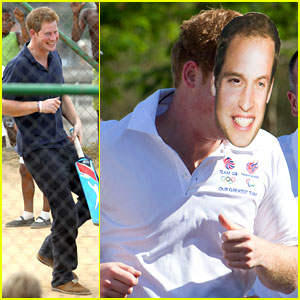 He may be a prince, but Harry prides himself as a royal jester.
During his four-country tour, which just wrapped up in Brazil this weekend, Harry says he was overwhelmed with emotion at seeing the love for his grandmother. But what people may not realize, he says, is what a good sense of humor the Queen has, something she picked up from husband Prince Philip.
"They are very funny together. My family is the same as any other family when it comes to humor behind closed doors," he says, then adds, "though I'd like think I was funnier than my grandmother."
One landmark light-hearted moment on his trip came when he outwitted lightening-fast Usain Bolt, distracting the Olympic phenom and dashing off before the starting gun sounded. Later, while in Brazil, Harry poked fun at his older brother, donning a Prince William mask while taking part in a fun run.
Talking of the upcoming Olympics, he said, "The three of us, my brother and my sister, will be as involved as we can be. I still love my sport, maybe not quite so much in this heat." Harry was representing the Queen on the tour of Belize, the Bahamas and Jamaica as part of her Diamond Jubilee commemorations.
Source: People
Image: NTC Magazine