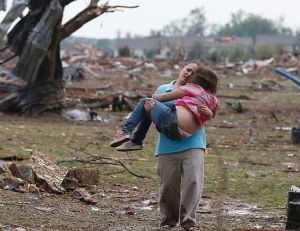 Rescue workers raced against time and darkness Monday night looking for survivors after a powerful tornado blasted an area outside of Oklahoma City, leveling homes and leaving at least 51 people dead.
'Second-most severe'
After the ear-shattering howl of the killer storm subsided, survivors along the miles of destruction emerged from shelters to see an apocalyptic vision — the remnants of cars twisted and piled on each other to make what had been a parking lot look like a junk yard. Block after block of homes were gone. Bright orange flames flew from a structure that was blazing even as rain continued to fall.
Bodies of those killed in the storm were being sent to Oklahoma's office of the chief medical examiner, said the office's Amy Elliott. At least 145 people were reported injured at three area hospitals.
The preliminary rating of damage created by the tornado is at least EF4 (winds 166 to 200 mph) — the second-most severe classification on a scale of zero to five — according to the National Weather Service. The tornado was estimated to be at least two miles wide at one point as it moved through Moore, KFOR reported.
'Destructive weather'
The severe weather came after tornadoes and powerful storms ripped through Oklahoma and the Midwest earlier Monday and on Sunday. Forecasters had said that the destructive weather, which killed at least two people, was perhaps just a preview. Before Monday afternoon's devastation, residents in areas hard hit by weekend storms were combing through rubble where their homes once stood.
An estimated 300 homes were damaged or destroyed across Oklahoma in weekend weather, Red Cross spokesman Ken Garcia said. As many as 28 tornadoes were reported in Oklahoma, Kansas, Illinois and Iowa, according to the National Weather Service, with Oklahoma and Kansas the hardest hit. Some of those reports might have been of the same tornado.
Have you ever been a victim of a calamity like this? How did you pull through your ordeal?
Source: George Howell. Gary Tuchman and Dana Ford, CNN
Image: News.com.au