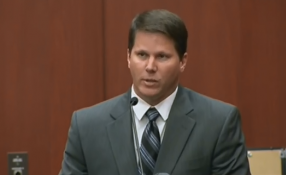 An employee of the Florida State Attorney's Office who testified that prosecutors withheld evidence from George Zimmerman's defense team has been fired.
'Deleted text messages'
Ben Kruidbos had been on paid administrative leave since May 28 from his job as director of information technology for the State Attorney's Office. A spokeswoman for Fourth Judicial Circuit State Attorney Angela Corey said Kruidbos was no longer an employee of the office.
Zimmerman, a former neighborhood watch volunteer in Sanford, is on trial in the shooting death of 17-year-old Trayvon Martin last year. Kruidbos testified before Zimmerman's trial began that Martin's cell phone contained images of Martin blowing smoke, images of marijuana and deleted text messages regarding a transaction for a firearm and that those images had not been given to Zimmerman's defense team. He received the termination letter, dated July 11, on Friday, the same day jurors began deliberating Zimmerman's case.
'Held liable'
Kruidbos said that, when he printed a 900-page Florida Department of Law Enforcement report from Martin's cell phone in late 2012 or early 2013, he noticed information was missing. Concerned that attorneys did not have all the information they needed to prepare the case, he said, he reported his concerns to a State Attorney's Office investigator and later to prosecutor Bernie de la Rionda.
Kruidbos said he generated a report that was more than three times the size of the one that had been handed over.In court, Kruidbos testified that he was concerned that he could be held liable if all information wasn't shared. But the defense said Kruidbos' testimony supports its claim that the state violated the rules of discovery. The defense said it did not get the complete report until a few days before the trial.
Is the firing of Ben Kruidbos rightly justified? Feel free to throw in your opinions regarding this case!
Source: Tom Watkins and Nancy Leung | CNN
Image: Scared Monkeys