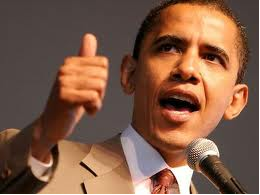 With fewer than nine months to go before Election Day, The Signal predicts that Barack Obama will win the presidential contest with 303 electoral votes to the Republican nominee's 235.
How do we know? We don't, of course. Campaigns and candidates evolve, and elections are dynamic events with more variables than can reasonably be distilled in an equation. But the data–based on a prediction engine created by Yahoo! scientists–suggest a second term is likely for the current president.
This model does not use polls or prediction markets to directly gauge what voters are thinking. Instead, it forecasts the results of the Electoral College based on past elections, economic indicators, measures of state ideology, presidential approval ratings, incumbency, and a few other politically agnostic factors.
But every election gives researchers more data to work with and a better idea of what works and what doesn't. Not all models are bogus just because many of them are. Our model combines powerful scientific algorithms with both real-time and historical data sources. We have examined the last 10 presidential elections and found that the Yahoo! model, which is the work of Yahoo Labs economists Patrick Hummel and David Rothschild, would have correctly predicted the winner in 88 percent of the 500 individual state elections.
This may be a conservative estimate for Obama, because January's economic indicators suggest that the states are likely to experience greater-than-average income growth in the first quarter. We will update our predictions accordingly when the actual data from the current year is available.
Source: Yahoo News
Image: Graphics Hunt