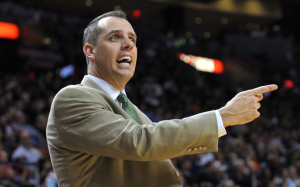 ESPN's Michael Wallace originally reported Pacers head coach Frank Vogel made a dismissive comment with regard to the defending NBA champions following his team's closeout victory over the New York Knicks in Game 6 on Saturday.
'Just the next team'
Vogel stated that Miami is "just the next team" in the way of Indiana's quest for the Larry O'Brien Trophy, and Heat superstar and reigning MVP LeBron James took issue with that in Sunday's practice. Wallace documented James' response to Vogel's barb at American Airlines Arena on Sunday:
We're not just another team. I don't understand what he's saying. But we're not just another team. That's not true. He said we're just another team in their way. We're a great team. If we're just another team, you really don't prepare for just another team. You have to prepare for us. …

We're very confident. We'll be ready for them. We don't need bulletin-board material. We've heard everything, we've seen everything. But I would say we're not just another team, though.
'Great respect'
On Monday, the Indiana Pacers released a statement from Frank Vogel in response to LeBron James' remarks:
"Sorry sports world, the words 'just another team' never came out of my mouth," he said. "Great respect for LBJ and the champs. Looking forward to [a] great series."
How will this "feud" affect both Miami and Indiana's Eastern Conference Finals play out? Feel free to share your thoughts with us!
Source: Matt Fitzgerald, Bleacher Report
Image: CBS Sports