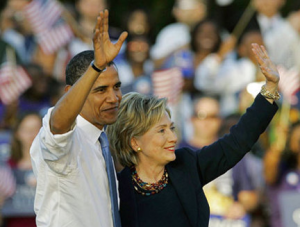 The trial is underway for a former Democratic official and a Board of Elections worker who are accused of being part of a plot that has raised questions over whether President Obama's campaign — when he was a candidate in 2008 — submitted enough legitimate signatures to have legally qualified for the presidential primary ballot.
'Petition fraud'
The two face charges of orchestrating an illegal scheme to fake the petitions that enabled then-candidates Obama, and Hillary Clinton, to qualify for the race in Indiana.
Former longtime St. Joseph County Democratic Party Chairman Butch Morgan Jr. faces multiple felony conspiracy counts to commit petition fraud, and former county Board of Elections worker Dustin Blythe is charged with nine felony forgery counts and one felony count of falsely making a petition of nomination. The proceedings began Monday in South Bend. Two former Board of Elections officials have already pleaded guilty to charges related to the scheme and could testify against Morgan and Blythe.
'Forging the petitions'
Former board worker Beverly Shelton, who allegedly was assigned the task of forging the petitions for Hillary Clinton, pleaded guilty in March to charges of forgery and falsely making a petition. The board's former Democratic head of voter registration, Pam Brunette, pleaded guilty in April to felony forgery, official misconduct, and falsifying a petition.
Under state law, presidential candidates need to qualify for the primary ballots with 500 signatures from each of the state's nine congressional districts. Indiana election officials say that in St. Joseph County, which is the 2nd Congressional District, the Obama campaign qualified with 534 signatures; Clinton's camp had 704.
Do you believe there is still an honest politician in this world? What do you think will be the outcome of this trial?
Source: Eric Shawn, Fox News
Image: Altercation