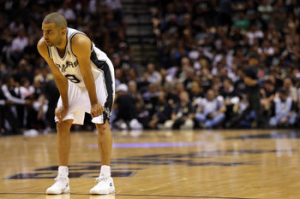 San Antonio Spurs point guard Tony Parker injured his hamstring in Tuesday's Game 3 victory over the Miami Heat.
'Slight strain'
Tony Parker has a slightly sprained hamstring, as he stated on his Twitter feed in French. According to Google Translate, he said, "I just had MRI. Result: I suffer from a slight strain to the hamstring. We'll see tomorrow how I feel, I really hope to play!" (via Pro Basketball Talk).
Parker only had six points in the Spurs' 113-77 victory in San Antonio, but he also posted eight assists in 27-plus minutes. The Spurs star had averaged 22.3 points, 7.0 assists and 1.2 steals while shooting 47.1 percent from the field this postseason heading into Game 3.
'Engine that runs the offense'
In 66 regular-season games, Parker averaged 20.3 points and 7.6 assists on 52.2 percent shooting (35.3 percent from three). His PER of 23.1 was among the top on the team behind Tim Duncan. Parker is obviously critical to San Antonio's NBA Finals success, as he is the engine that runs the offense.
The Spurs lead the series, 2-1, over the Heat. Game 4 tips off at 9 p.m. ET in San Antonio on Thursday.
Do you think Tony Parker will still be able to pay in Game 4 despite his hamstring injury? Which team are you rooting for — San Antonio Spurs or Miami Heat?
Source: Ryan Rudnansky, Bleacher Report
Image: SB Nation