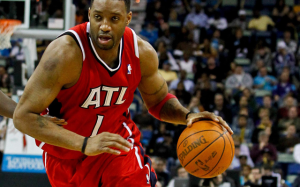 In a surprising late-season move, the San Antonio Spurs signed veteran Tracy McGrady for the rest of the season on Tuesday, according to Adrian Wojnarowski of ! Sports. NBA.com later confirmed the Report.
'Last rostered on the Atlanta Hawks'
McGrady, who is 33 years old, hasn't played in the NBA since May 10 of last year. He was last rostered on the Atlanta Hawks, playing 52 games in the 2011-12 campaign. He averaged 5.3 points, 3.0 rebounds and 2.1 assists in 16.1 minutes per game off the bench.
'Carve out a role'
Without any NBA offers following the conclusion of the lockout-shortened season, McGrady signed with the Qingdao Eagles of the Chinese Basketball Association in October of 2012. McGrady is a seven-time All-Star and two-time NBA scoring champion. In his prime, he was compared to some of the greats of the game, but injuries have diminished his performance over the last several years.
It will be interesting to see what McGrady can contribute to the Spurs with the playoffs around the corner, but considering coach Gregg Popovich's ingenuity, he will likely carve out a role with the Western Conference's two seed.
What can we expect from Tracy McGrady as part of the San Antonio Spurs? Will he be an asset or a liability of the team?
Source: Ryan Rudnansky, Bleacher Report
Image: CBS Sports