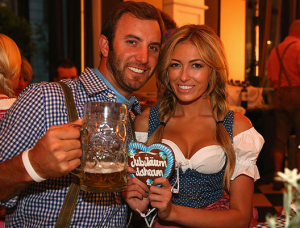 Golfer Dustin Johnson is having a pretty good year. Oh, and he just got engaged to Paulina Gretzky, daughter of The Great One, Wayne Gretzky. Yup, things are looking up for Johnson.
'She said yes'
He posted the picture on Instagram, with the caption "She said yes!!!!!"
Johnson is having another solid season and is currently ranked No. 22 in the world. The powerful driver—he is fifth on tour with an average driving distance of 303.3 yards—is generally good for a win or two and several top-10 finishes per year.
'A legend's daughter'
He is still searching for his first major win, but he has put himself in contention before. His best career finish at a major came in 2011, when he tied for second at the British Open.
Gretzky is perhaps best known for two things: being a legend's daughter and posting pictures on her Instagram account. Now she can add being Johnson's fiancee to that list. Or perhaps Johnson will now be known for being Gretzky's fiance.
How many guys do you think are mourning right now because of this news? When do you think will be Paulina Gretzky and Dustin Johnson's special day?
Source: Timothy Rapp | Bleacher Report
Image: Yahoo! Sports