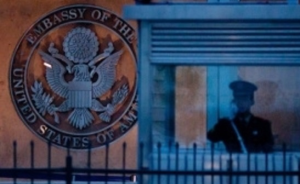 A global travel alert issued Friday by the State Department warned al Qaeda may launch attacks in the Middle East, North Africa and beyond in coming weeks, a threat that prompted Sunday's closure of 21 embassies and consulates.
'Muslim holy month'
One of the sources said that such preparations appeared to have increased in recent days with the approaching end of the Muslim holy month of Ramadan. In particular, Sunday is Laylet al-Qadr, or the Night of Power, which is one of the holiest moments on the Muslim calendar.
Based on intelligence, U.S. officials said, there was particular concern about the U.S. Embassy in Yemen between Saturday and Tuesday.  Still, it's unclear whether the apparent plot targets that Arabian nation or one elsewhere — which is why the travel alert applies so broadly, and why embassies from Bangladesh to Libya are being closed. The expected time of an attack also isn't known, with the U.S. travel alert noting the threat extends through the end of August.
'Shut down'
The 17 affected U.S. embassies are in Afghanistan, Algeria, Bahrain, Bangladesh, Djibouti, Egypt, Iraq, Jordan, Kuwait, Libya, Mauritania, Oman, Qatar, Saudi Arabia, the United Arab Emirates, Sudan and Yemen. The U.S. embassy in Israel will be closed as normal Sunday. Consulates in Iraq, Saudi Arabia and the United Arab Emirates are also being shut down for the day. Embassies and consulates in the region typically close their doors or operate with minimal staff on Fridays and Saturdays.
Where do you think is the main target of this Al Qaeda threat? And for how long will this alert last?
Source: Chris Lawrence. Barbara Starr and Tom Cohen | CNN
Image: Al Arabiya