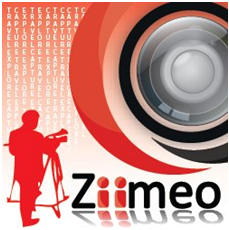 YouTube the current #1 online destination for watching and sharing videos worldwide. Since its was inception in February 2005 by three former PayPal employees, it has become the third most visited website of all and now has traffic in excess of two billion views a day. Not only that, it now has over 10,000 partners and 24 hours of video being uploaded every minute of every day. It is now a far cry from the website which once displayed a resolution of 320×420 pixels when it first started. Overwhelming! Being a high-and-mighty video-sharing community and all, could anything topple YouTube?
Move over YouTube, Ziimeo has arrived!, Ziimeo the interactive travel video sharing website that was launched at the beginning of August 2011. YouTube has the slogan "Broadcast Yourself" while Ziimeo targets a far greater scope with "Share Your World." Like YouTube, Ziimeo allows its users to watch, download and share videos to users all around the world. However, unlike its giant predecessor, Ziimeo is not only a platform for videos, but is also offers the upload of images, music, games, and travel products — things that are now highly in demand among majority of the internet-surfing population. Major score for Ziimeo and zip for YouTube.
Ziimeo is a unique online community that allows travel junkies all around the world to interact and share their travel information with one another. They can even create their own groups within the site for discussion of various travel topics of their own liking. In addition to great entertainment, members can also enjoy joining the online competitions being hosted on the site. As reward for their contributions, the winners are awarded enticing prizes, including luxury vacations. These are among the features and benefits that are easily accessible on Ziimeo but are nada on YouTube.
Still in its humble beginnings, the Ziimeo travel video site is already set to launch a massive upload space of up to 9 GB weekly, high definition embedding of all media uploads, crystal clear 1280×720 resolution, high quality video conversion from SD to HD, priority uploading of media content, and an unlimited number of group subscriptions within the site. From its inception, Ziimeo has already offered a high quality service to its members and its management is constantly working to upgrade the site features to keep abreast with the ever changing Internet landscape. Just imagine what amazing innovations Ziimeo will come up with the ensuing year!
Ziimeo sounds like the total travel package. As a pioneering website, it has already started attracting a high level of interest with new members joining.. Small but terrible, eh? YouTube ought to be worried about the small yet significant advances that Ziimeo is making. YouTube may be a large chunk of donut compared to Ziimeo, but the latter has surely started to take tiny bites out of that big donut from the first day that it started. What more can it achieve when it has only been running a few months in the web? Talk about a possible David-and-Goliath scenario.
It might still be too early or too ambitious to assume that Ziimeo could be one of YouTube's greatest rivals. But
who knows, maybe because of the rise of Ziimeo, a whole new crowd of "travel geeks" might suddenly emerge out of the once-passive video watchers and uploaders out there and surpass other media-sharing websites. Watch this space for further Ziimeo developments!