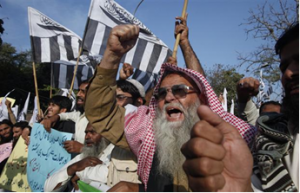 Pakistan pulled out of an international conference on Afghanistan on Tuesday; its latest angry riposte after an attack by NATO killed 24 of its soldiers and plunged the region deeper into crisis. This decision will deprive the talks of a key player that could nudge Taliban militants into a peace process as NATO combat troops prepare to leave Afghanistan in 2014.
Afghan President Hamid Karzai spoke to Pakistani Prime Minister Yusuf Raza Gilani on Tuesday and urged his neighbor to attend the conference. Some diplomats saw Pakistan's decision to pull out as an over-reaction to last weekend's border attack. A senior diplomat in Kabul called it "a pretty huge miscalculation."
The decision to pull out of Bonn appears to be the latest attempt by Pakistan to put pressure on Washington and NATO after what Islamabad says was an unprovoked attack on two combat outposts on the border with Afghanistan last Saturday.
A Western official and an Afghan security official who requested anonymity said NATO troops were responding to fire from across the border at the time of the incident. Pakistan disagrees, saying the attack lasted two hours despite warnings from the outposts and it has reserved the right to retaliate.
Brokering a peace deal has become a chief goal for the Obama administration as it commits to drawing down in the region and ending a costly, unpopular war.