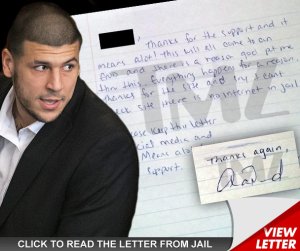 Aaron Hernandez has written another letter from prison, and TMZ has obtained and published his correspondence.
'Everything happens for a reason'
This is the content of the letter:
"Thanks for the support and it means a lot! This will all come to an end and there is a reason god [sic] put me thru [sic] this. Everything happens for a reason. Thanks for the site and sry [sic] I can't check site there is no internet in jail lol.

P.S. Keep this letter on social media and private. Means a lot for all the support."
It remains to be seen if TMZ also paid $18,000 for this letter, as the site reportedly paid Sportsworld, Inc. for the first letter Hernandez penned from prison, according to John Zaremba of the Boston Herald.
'Kept private'
In the former letter, Hernandez maintained his innocence while also requesting his letter be kept private. So much for that request. Perhaps he should stop responding to letters if he truly wants them to remain private, as clearly those wishes won't be met.
One thing is for certain: $18,000 is a lot to pay for one letter from prison.
This is just the latest chapter in the bizarre and troubling case of Hernandez, currently charged with murdering Odin Lloyd, along with five additional gun charges. Hernandez is also reportedly the center of a grand jury investigation stemming from a 2012 double homicide in Boston.
What do you think of Aaron Hernandez's involvement in the Odin Lloyd murder case — innocent or guilty? Do you think Hernandez will be able to return to his sports career after this?
Source: Timothy Rapp | Bleacher Report
Image: TMZ