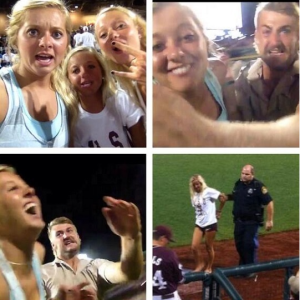 Larry Brown Sports reports on Kayleigh Hill, Emily Hill and Torrie Hill—young ladies who managed to get on the field during last week's College World Series finale.  By the time the dust had settled and the girls had been escorted to the stadium's holding room, their amazing images had surfaced all over the Internet.
'Random field adventures'
Unfortunately, the girls erased many tweets and the subsequent Vine video of Kayleigh getting tackled. There is one thing that you must remember though: The Internet never forgets. Not only does the Internet never forget, it will document random field adventures from multiple angles.
Here is a breakdown of some of the tweets Larry Brown Sports managed to save:
If everyone chips in to the $1500 fine between me Emily and torrie, we will run on the field. Guys I actually really wanna — Kayleigh Hill (@gonedownHILL) June 26, 2013

2nd out we goin — Kayleigh Hill (@gonedownHILL) June 26, 2013

End of the 6th, kayleigh torrie and I are running on the field. Watch for us — Emily Hill (@mothafukaimhILL) June 26, 2013

This ones for you bowk — Kayleigh Hill (@gonedownHILL) June 26, 2013
'Brief stint of fame'
According to the Larry Brown Sports' report, the girls were rather proud of their brief stint of fame, causing us to wonder why they suddenly disposed of all the remarkable footage.  They went to all the trouble of getting tackled, only to erase the video from the web.
Whatever the reason, we are just glad the Internet was on the job, continuing its epic mission of saving random and hilarious moments for posterity.
Do you think you could pull off the stunt that these girls did? Tell us about your craziest shot at fame!
Source: Gabe Zaldivar | Bleacher Report
Image: Yard Barker