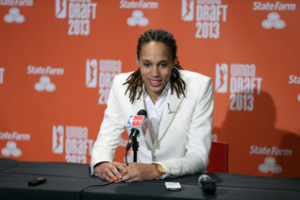 Not long after she was selected No. 1 overall in the 2013 WNBA draft, basketball star Brittney Griner spoke about her sexuality in an interview with Maggie Gray of Sports Illustrated.
'Let that shine through'
In the conversation, which also includes Elena Delle Donne and Skylar Diggins, the No. 2 and No. 3 picks of this year's WNBA draft, respectively, they discuss sexuality in the sports world. Shortly into the interview, Gray asked Griner about the difference between men and women sports figures coming out, to which the latter casually responded by revealing details about her own sexual orientation:
I really couldn't give an answer on why that's so different. Being one that's out, it's just being who you are. Again, like I said, just be who you are. Don't worry about what other people are going to say, because they're always going to say something, but, if you're just true to yourself, let that shine through. Don't hide who you really are.
'Courage to be themselves'
Griner, arguably the most dominant player in women's college basketball history, is a role model to young girls all over the country. Everything she does is magnified and seen by millions.  It's clear she is trying to use that power in a positive way to inspire others.
Griner's message is refreshing, and her comments stand to provide men and women around the world—and across the sports world—with the courage to be themselves.
Do you agree with Brittney Griner's view about sexual orientation and coming out? Feel free to voice out your own opinion regarding homosexuality in the world of sports!
Source: Tim Keeney, Bleacher Report
Image: Zimbio