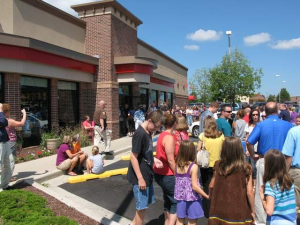 It used to be that taking a bite of a chicken sandwich just meant you were hungry. Now it has become a symbol of whether you stand for or against same-sex marriage, or – alternately – the right to express your personal views without fear of retaliation.
At Chick-fil-A locations across the country, people voted with their wallets today, coming out to express support for the fast-food chain after CEO Dan Cathy said in an interview that he is a firm backer of traditional marriage. At one Atlanta location, the restaurant was packed, while the line for the drive-thru looped twice around the building and out into the street.
The backlash across the country against Chick-fil-A has been ferocious. After the mayors of Chicago and Boston heaped scorn upon the company, the mayor of Washington, DC, suggested it was peddling "hate chicken." The Chick-fil-A firestorm has taken on different meanings for different people. For some, it harks to the days of intolerance and segregation. For others, it is about religious views of marriage. But for most people who Fox News spoke to today, it is about free speech.
Chick-fil-A Appreciation Day – as it is being called was the idea of former Arkansas governor and Fox News contributor Mike Huckabee. But as protests against Chick-fil-A swelled across the country, dozens of groups and prominent individuals joined in support of the company. Among the groups is Project 21, a black conservative activist organization. One of its members, Demetrios Minor, said critics of Dan Cathy have taken his statements completely out of context.
"I think liberals are missing a vital point in their blind hatred of Chick-fil-A," Minor said in a statement sent to Fox News. "Being against gay marriage is not being anti-gay."
What is your opinion about same-sex marriage? Are you for or against it? Feel free to sound off in the comment box below!
Source: Fox News
Image: The Lonely Conservative