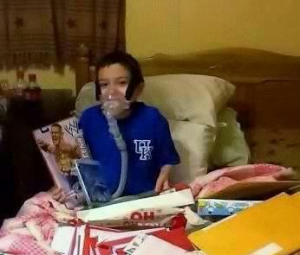 Under the Christmas tree was everything 9-year-old Dalton Dingus had hoped for — an iPad and an iPhone, a big red toolbox filled with real tools just like his grandpa's, and a stack of Christmas cards nearly as tall he, each with the same wish: that he live to break a Guinness record, and for a long, long time after that.
'Christmas miracle'
For a month now, cards by the hundreds of thousands have come from all over the world — well wishes and Christmas greetings from cities and countries the Kentucky boy had never before even heard of. The cards have come from Germany and Ukraine, from South Carolina and South Korea. As far as his mother, Jessica Dingus, is concerned, "It's a Christmas miracle."
"We left the hospital to come home. They gave him two to eight days to live," Jessica Dingus told ABCNews.com Dalton takes 18 different medicines every day, including "lots of pills and antibiotics," his mother said.
He goes through 12 liters of oxygen a day and wears a face mask to help him breathe, making him look like a miniature fighter pilot with an interest in coloring and playing with Lego blocks. For weeks since the cards started coming, Jessica Dingus said, Dalton's health has improved.
'Christmas card category'
The cards can longer fit in Dalton's home. The letter carrier can't fit them all in her truck anymore, and a local television reporter has taken to filling a trailer to bring all the cards to Dalton's grandfather's church. Despite some reports that Dalton had already broken the record for receiving the most Christmas cards, spokeswoman Jamie Panas said Guinness "currently does not monitor a category for this." However, Guinness does have an old record on the books. As of 1992, the last official time Guinness allowed for a Christmas card category, Canadian Jarrod Booth had collected 205,120.
Jessica Dingus told ABCNews.com that she has since registered Dalton in the hopes the record keepers will open a category for him.
Do you know someone who also has cystic fibrosis? Would you help Dalton Dingus achieve the Guiness Record for Christmas cards?
Source: Russell Goldman, Good Morning America, Yahoo News
Image: Examiner