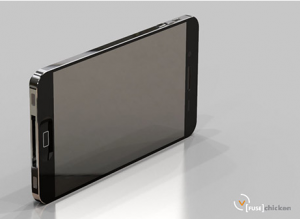 While no one outside of Apple's inner circles know what it will be called — iPhone 5, newiPhone or something else altogether — all signs point to a new device on the market by the third week of September. OK, so what's the iPhone 5 going to have, you ask? Let's take a look at what we know and what we think we know.
Bigger screen
According to photos leaked to MacRumors.com a few days ago, the new iPhone might be about 14 percent bigger, up to 4 inches in diameter. Apple will also pack more pixels on the taller screen, to ensure it's still a "Retina" display — meaning its pixel density is so high the human eye is unable to distinguish individual dots.
Thinner body, bigger battery & new connector
The new screen — likely to be one of the biggest features in the iPhone 5 — will also be thinner, contributing to an even svelter smartphone, about 1.2mm. On a related note, rumor has it the iPhone will have an all-new housing with a full metal back, replacing the breakable glass on the iPhone 4S. As for the connectors, it seems the headphone jack has been moved from the top left of the phone to the bottom left, beside a small connector. Apple is changing to this smaller dock connector on all future iOS products, various sources say. A leaked photo acquired by 9to5Mac points to a bigger battery in the iPhone 5 — but not by much.
New wireless tech
Speaking of smaller, there's talk (and photos) of a new nano SIM under the hood of iPhone 5 to give the iPhone cellular connectivity. Apple has been pushing for this as a standard for some time, so we'll soon see if iPhone 5 is the first to house this new SIM card.
Will you be buying the next version of iPhone? Which of its rumored new features do you like best?
Image: Mashable