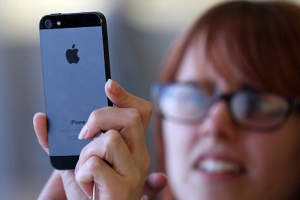 Apple's iPhone 5 broke records over the weekend, selling more than 5 million units. After a few days of putting the new smartphone through its paces, here are five gripes people have with the iPhone 5.
1. Scratches
Apple prides itself on making products that aren't just functional but beautiful as well. But users are reporting that after having their iPhone 5s for only days, or even hours, the sheen on the sleek, aluminum phone is getting scratched up.
2. Lightning dock connector
Many longtime Apple users are irked at the company's decision to use a smaller connector port, called Lightning, on the iPhone 5 and new iPods. With one fell swoop, that meant both a need for new power cords and that the new products won't connect with older speaker systems, alarm clocks and other accessories. The fix? A $29 adapter (which costs $39 if you want a new cable with it). And even then, the adapter doesn't support video or the "iPod out" function for transmitting some data from the devices.
3. The phone's too light
One of Apple's selling points for the new phone is that it's the lightest smartphone ever. To some users, a phone without the usual heft feels suspiciously cheap, toylike.
4. Screen issues
One YouTube video shows what appear to be weird bubbles showing up on one part of the display screen when the user touches another. Threads on the Macrumors site also were filling up with people who said their screens started flickering just hours after getting their new phone.
5. Leaking light
Phones aren't supposed to leak. But users on multiple forums are reporting that light from the screen appears to be showing through gaps around the iPhone 5's antenna and power button. Users said Apple has been offering replacements.
Have you got your hands on the new iPhone 5 already? Feel free to share with us your own smartphone gripes!
Source: CNN
Image: Metro