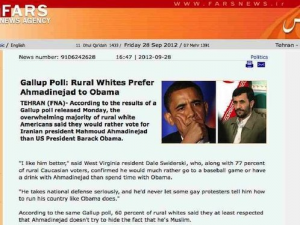 Iran's semi-official Fars News Agency published a story Friday claiming that a Gallup poll found that rural white Americans prefer Iranian President Mahmoud Ahmadinejad over President Barack Obama. Such a poll would indeed be big news in Iran (and the United States) — if it were true. But the source was The Onion, the publication that presents the outlandish as real news.
Its serious tone fools many who are new to the lampoons. Onion yarns have tricked news outlets in the U.S. and overseas. What sets Fars apart from others, however, is that the agency published the Onion story as if it were its own. Fars News Agency used the story verbatim, giving the same headline: "Gallup Poll: Rural Whites Prefer Ahmadinejad To Obama". Fars also took all the credit at the get-go:
"TEHRAN (FNA) — According to the results of a Gallup poll released Monday, the overwhelming majority of rural white Americans said they would rather vote for Iranian president Mahmoud Ahmadinejad than US President Barack Obama." (The Onion story used a Charleston, West Virginia, dateline.) If that weren't enough, Fars continued, "According to the same Gallup poll, 60 percent of rural whites said they at least respected that Ahmadinejad doesn't try to hide the fact that he's Muslim."
A Fars news editor said Friday that the outlet took the item off its English-language website once editors realized that The Onion wasn't a legitimate news organization.
Without breaking from its farce, Onion Editor Will Tracy wrote in an e-mail that Fars is a subsidiary and that "The Onion freely shares content with Fars and commends the journalists at Iran's Finest News Source on their superb reportage," Tracy wrote in his statement. There's no word on whether either president is laughing.
Are you laughing about this mistakenly published news? Do you like The Onion's news features? Feel free to share your thoughts and opinions with us!
Source: CNN
Image: Politix