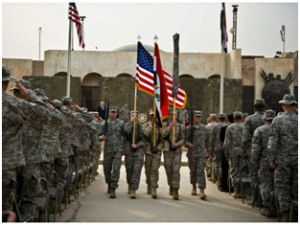 America's contentious and costly war in Iraq officially ended Thursday with an understated ceremony in Baghdad that contrasted sharply with its thundering start almost nine years ago. U.S. troops lowered the flag of command that flew over the Iraqi capital, carefully rolled it and cased it in camouflage in accordance with Army tradition.
The quiet ceremony, under a bright Iraqi sun, was the opposite of the nighttime "shock and awe" bombardment of Baghdad that launched the war against Saddam Hussein in March 2003.
Defense Secretary Leon Panetta recalled that when he visited in 2006 as a member of Bush's Iraq Study Group, "sectarian violence was skyrocketing, and it seemed as if nothing was working." But, he said the United States was "deeply indebted" to all Americans in uniform. Nearly 4,500 of them were killed in this war, more than 30,000 wounded. And he hailed the advances made in Iraq since Hussein was ousted.
No one knows how many Iraqis have been killed since March 2003, but the independent public database Iraq Body Count has compiled reports of more than 150,000 between the invasion and October 2010, with four out of five dead being civilians. Thousands of other Iraqis struggle to cope with lives marred by war. For them, the battle goes on as the Americans leave behind a fragile nation struggling to establish democracy, struggling to establish stability.
Secretary of State Hillary Clinton said the United States will help the people "realize their own ambitions for a free and sovereign Iraq." It also will work closely with the Iraqi government to ensure the safety of U.S. civilians staying in the country, she said.
Source: CNN.com
Image: Coastalcourier.com