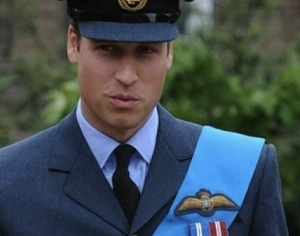 Almost two years after joining the Royal Air Force Search and Rescue Force, the Duke of Cambridge has qualified to be an operational captain, meaning he can lead missions in RAF Sea King helicopters by himself.
William, 29, who helped save the lives of Russian seamen whose cargo vessel sank in the Irish Sea last November, previously only co-piloted the aircraft. The advancement – which is not technically a promotion, as William remains a flight lieutenant – comes after two years of flying experience and study with C Flight, 22 Squadron at RAF Valley in Anglesey, Wales.
William also successfully completed several ground- and air-based practical tests over a two-day period. They included an airborne search for a yacht, a search for people in water, extinguishing a simulated fire on a large survey vessel, and a search for two missing kayakers.
Flight Lieutenant Wales, as he is known in the military, "demonstrated the required standards needed for the award of operation captaincy," Mark Dunlop, one of William's commanding officers, said.
We are definitely happy for the Duke's new achievement in the RAF, and we're sure the Duchess of Cambridge is very proud of him, too! But in the middle of his ever-busy RAF schedule, everybody wants to know: When do you think should Prince William focus more on his plan to have an heir of his own?
Source: People
Image: Raw Story