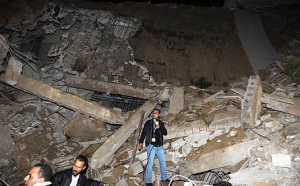 Airstrikes Sunday in the heart of Moammar Gadhafi's Tripoli compound had a military objective but also no doubt brought a message of allied resolve to the Libyan leader's doorstep. A coalition military official confirmed to CNN that the compound was targeted because it contains capabilities to exercise command and control over Libyan forces. The coalition's goal is to degrade Gadhafi's military capabilities.
'Defied international calls'
U.S. officials said they are not targeting the leader, who has defied international calls to stop attacking opposition forces. The United States, detailing significant damage to Gadhafi's air defenses and a military convoy, also fought a public relations campaign Sunday, insisting that two days of coalition bombing weren't going beyond mandates in the United Nations Security Council resolution.
Secretary of Defense Robert Gates warned against widening the current allied operations to include a direct attack on Gadhafi, who earlier Sunday labeled the coalition "terrorists."
'Stop the dictator'
U.S. officials said they plan to hand over operational control of the military mission in coming days. The coalition has nine other announced partners: Belgium, Britain, Canada, Denmark, France, Italy, Norway, Qatar and Spain.
Meanwhile, President Barack Obama and his national security team worked behind the scenes to shore up support within the Arab world for the military mission in Libya, according to senior administration officials. The senior officials described the Obama team's phone calls as making clear to the Arab League that bombing Gadhafi's air defenses falls within the Security Council resolution's scope of imposing a no-fly zone and taking "all necessary measures" to stop the dictator from attacking civilians in his own country.
What do you think will be the outcome of the Coalition's air strikes on Gadhafi's compound? Will this stop Gadhafi from attacking opposition forces in his country?
Source: CNN
Image: The Guardian