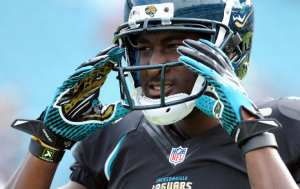 According to ESPN's Adam Schefter, Jacksonville Jaguars wide receiver Justin Blackmon will be suspended for the first four games of the 2013 regular season due to a violation of the league's substance-abuse policy.
'No excuse'
Upon the news of his suspension hitting the wire, Blackmon released a statement, per NFL Network's Andrew Siciliano:
I've made a mistake and I have no excuse. I am truly sorry and disappointed in myself for putting the Jaguars in this situation, and I look forward to putting this behind me and maturing and growing as a person. I will have a productive training camp and pre-season with my team, and during the suspension I will work hard to in top football shape and be ready to help the Jaguars when I return. I have chosen to be accountable for my poor decision, and I sincerely apologize to my teammates, coaches, the front office and Jaguars fans for the impact of my mistake on the team.
'Substance-related problems'
It is not known at this time what substance Blackmon tested positive for. Under the NFL's collective bargaining agreement, the league is not allowed to disclose the specificity of a player's case or which drug was taken.
This isn't Blackmon's first incident with substance-related problems since coming to the NFL. In June of 2012, Blackmon was arrested in Oklahoma for DUI, having blown a .24 on the breathalyzer test—three times the legal limit.
Blackmon not only faces missing four games of the 2013 season, but his wallet could take a hurting with this suspension. According to Joel Corry of The National Football Post, Blackmon should lose over $10 million in guarantees from his contract.
What could have been the substance that Justin Blackmon tested positive for? Do you think this will be his last substance-related problem in the NFL?
Source: Tyler Conway, Bleacher Report
Image: SB Nation