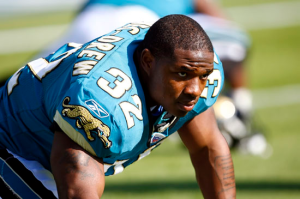 Jacksonville Jaguars star running back Maurice Jones-Drew is under investigation for battery following an incident at a restaurant where he struck a security guard.
'Misrepresented'
TMZ confirmed that while police initially reported that charges had been filed, they "misrepresented" the situation.
Now, a rep for the S.A.P.D. tells TMZ … they screwed up and "misrepresented" the situation.

According to cops … no charges have been filed against Jones-Drew, however, he IS being investigated for allegedly punching a security guard in the face … and is a "person of interest."

Cops say Jones-Drew and his attorney are being cooperative with the investigation. After the investigation is complete, we're told the case will be sent to the State Attorney's office, which will determine if charges will be filed.
'Punching a security guard'
The report states Jones-Drew was at The Conch House Marina Resort restaurant in St. Augustine, Florida when security advised a member of his group to stop making contact with a female. Chaos allegedly ensued after the acquaintance got physical with the security guard.
That's when Jones-Drew reportedly got involved, punching a security guard and causing injuries described as a jaw that was "swollen a great deal and had a large lump." No broken bones were found in a subsequent hospital trip.
How do you think will this incident affect the NFL career of Maurice Jones-Drew? Feel free to weigh in on his situation.
Source: Tim Daniels, Bleacher Report
Image: Sun Times