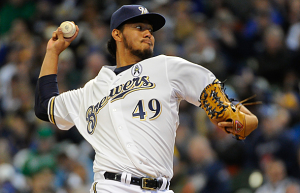 Milwaukee Brewers ace Yovani Gallardo was arrested and cited for drunken driving early Tuesday morning.
'Failing to stay in the lanes'
Drew Olson of ESPN Wisconsin broke the news, reporting that Gallardo was pulled over at 2:10 a.m. on Interstate 94 near Miller Park for driving too slowly and failing to in the lanes. The Milwaukee County Sheriff's Office said Gallardo's blood-alcohol level was .22, nearly three times the legal limit of .08.
The 27-year-old will not face jail time for this first-time offense, the sheriff's office told ESPN Wisconsin, but will have to pay hundreds of dollars in fines for operating a vehicle while intoxicated and for drifting outside of the lanes.
'No prior criminal record'
Gallardo has no prior criminal record, so this setback is not as bad as it could have been. According to Olson, the pitcher is believed to be the first Brewer to be arrested for drunk driving since John Jaha in 1998.
Should the Milwaukee Brewers dump Yovani Gallardo as their ace? Or should they just let the offense go and hope this never happens again? Feel free to share your thoughts and opinions with us. Broadcast your voice to the world via the comment box below!
Source: Matt Fitzgerald, Bleacher Report
Image: CBS Sports