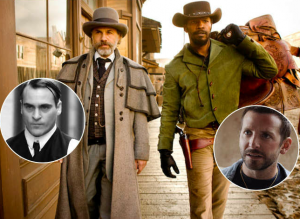 It's pretty clear from last night's screening that "The Master," directed by Paul Thomas Anderson, is all about the early days of Scientology.
Philip Seymour Hoffman is clearly playing L. Ron Hubbard, creating his cult religion with the help of his wife (Amy Adams). In the clip reel we saw, Joaquin Phoenix is some kind of drifter who gets involved with the couple and become Hoffman's right hand man.
Phoenix in real life has been on a sabbatical from acting. So it's kind of interesting that he took this role. He and his family grew up in a cult in Florida, where the kids all changed their names. But the acting from all three principals in the clips was superb.
Whatever PTA has in mind, it's going to be controversial. Scientology doesn't like people messing with their made up history. This should cause quite a discussion.
What do you think — could PTA be intentionally messing up with Scientology as a publicity stunt? And how would this film affect Scientology celebrity members such as Tom Cruise? Feel free to comment on the film and to voice out your opinions in the comment box below.
Source: Forbes
Image: Indie Wire